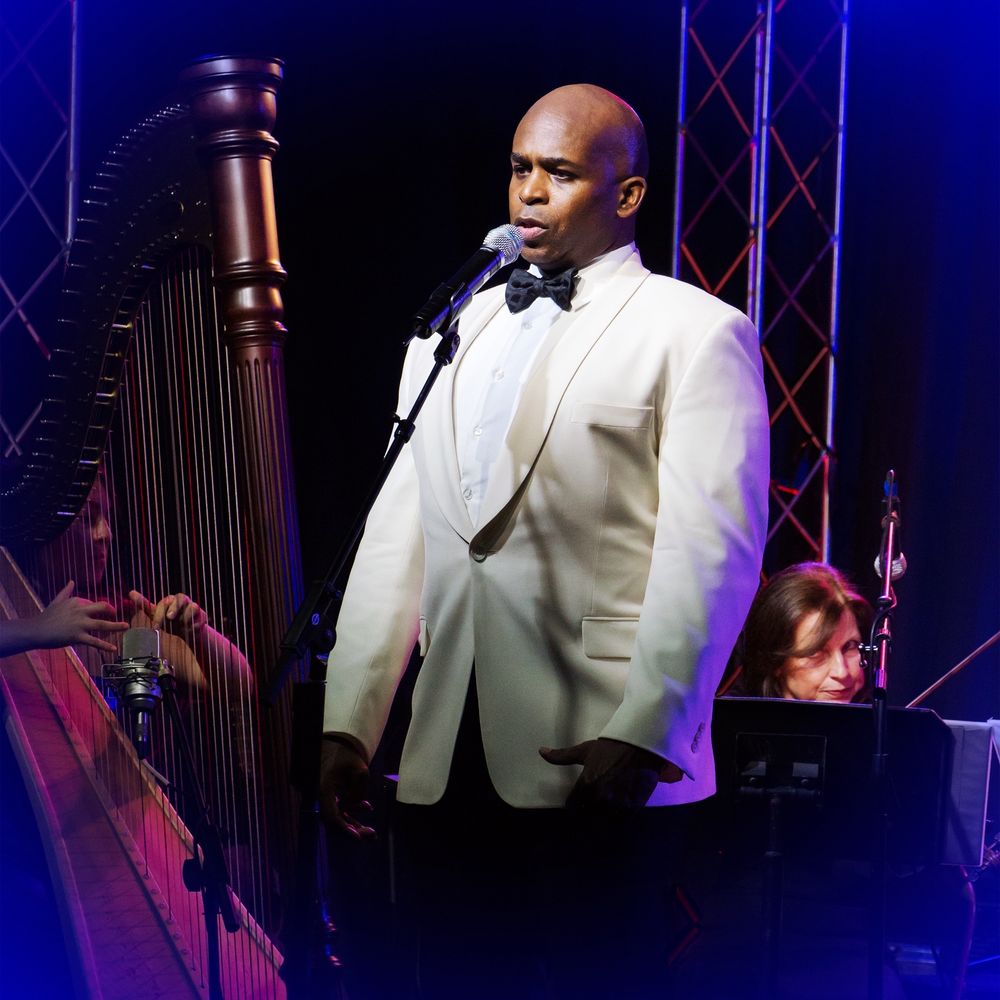 Brent Charles
From inspiring concerts to joy-filled society weddings and fund-raising galas, Brent Charles may be found providing live entertainment locally and internationally.
This unique vocalist, originally from Long Island, New York with Trinidadian roots, sprouts from a large musical family that spans the globe. Demonstrating deep warm tones to a vibrant whistle register with a vocal range of more than four octaves, Brent Charles sings in English, Spanish, French, Italian, Portuguese, and Hebrew and has a musical range from Pavarotti, Sinatra and Barry White to Ne-Yo, Prince, Phillip Bailey, and Bruno Mars.
While he does enjoy touring internationally, Brent has also performed at various local Palm Beach venues including Flagler Museum, The Adrienne Arsht Center, opening for national acts such as the original Drifters, Earth, Wind & Fire, Paul Anka, and even enjoys performing at more intimate gatherings, such as engagement parties, various charities, country clubs, conventions, festivals, sporting events, etc.
* Studio recordings include international projects for Ron Taylor (Grammy winning & multiple Latin Grammy winning recording Engineer/Mixer/Producer) at The Hit Factory/Criteria Records, several original bands, and various international songwriters.
Traveling extensively, Brent developed a keen interest in various forms of art early in life. Since his father wanted him to have a secure future with a "real job", Brent initially studied computer technology and engineering, working with his father at IBM for a while before eventually embarking on a U.S. & South Pacific tour. Receiving a full scholarship to the University of Miami Frost School of Music furthered his musical growth and desire. Although Brent is also a professional S.A.G. eligible actor, former model, and a professional visual artist (abstract & surrealism; mediums - acrylics, oils, and watercolor), his primary focus is unquestionably his first love, music.
Throughout his tranquil, jovial, or even energetic, high-voltage performances, he personalizes each song drawing from his own life experiences and multi-cultural background while staying true to each individual art form. In addition to the wonderful tutelage and influence of his mother, Cynthia Young Sheppard, and his uncle, Arthur Young of the Lafayette Afro Rock Band and ICE, two of his greatest musical influences are his two grandmothers, Odell Sheppard and Cynthia Young. Collectively their guidance and musical instruction encouraged him to develop the vocal skills to authentically perform Jazz (Brazilian & American Standards & Swing), Classical, Rock, Hip-Hop, R&B, Merengue, Salsa, Top 40, Calypso, Reggae, Country, Blues, Progressive, House, World Music, and other International genres. Implementing the same Bel Canto method that his grandmother Cynthia taught him, Gina Maretta has also strongly influenced his vocal development. In turn, Brent loves sharing these voice enhancing and preserving techniques with his private vocal students, as well as his special needs music therapy class.
Brent Charles' love of music impels him to create uniquely moving experiences with every performance, fulfilling what he considers to be the "responsibility of every artist" to: Entertain, Engage, Educate, and Inspire!